Local Attractions
Explore the Nearly Endless Things to Do in Harrison Hot Springs
Covering 200 square kilometres, the glacier-fed Harrison Lake is nestled into a breathtakingly beautiful stretch of the southern Coast Mountains. It's shore at Harrison Hot Springs is one of the most popular and picturesque beaches in the province and a favourite spot for leisurely and active vacationers alike.
The hotel is in the heart of Harrison Hot Springs, just steps from the beach, public pool, and village promenade. We offer underground secure pay parking or complimentary ground level parking, but you certainly won't need a car to explore the village as all of the best things to do are within easy walking distance. You'll find a variety of shops and galleries, with plenty of places to stop for a coffee, an ice cream, local brew, or entire meal.
Active pursuits right in town are mostly centred around beach and water, with plenty of options for fishing, boating, tubing, and paddling. And of course, there is the Harrison Lake Water Park for even more thrills. Those looking for terrestrial activities can find a range of easy to challenging walking, hiking, and biking.
Even though you'll feel like you're deep in the mountains while at the hotel, a plethora of rivers, rural towns, and fertile farm country is less than an hour's drive away. Explore local museums, shops, country fairs, and art festivals, many of which come alive in the fall. And when winter arrives, there's still skiing and boarding at the Sasquatch Mountain Resort to enjoy, less than an hour away.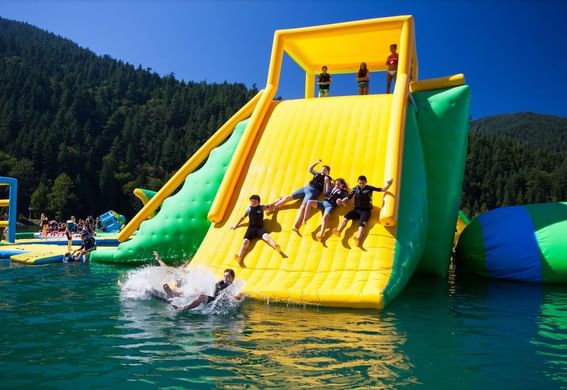 Harrison Watersports
Operating a giant floating waterpark in Harrison Lake, Harrison Watersports offers a variety of fun options for enjoying outdoor fun on the lake including sea-doo rentals, bumper boats, banana tubes and more. The water park is open from May until September, with rentals offered between those dates as well.
>> Visit Harrison Watersports
Circle Farm Tour
The countryside surrounding Harrison Hot Springs and the nearby community of Agassiz is not only beautifully scenic, but also home to more than 10 different farms open to the public for tours and markets. The self-guided Circle Farm Tour is a great way to explore this region and sample some of the best dairy and produce in the province.
>> Visit Circle Farm Tour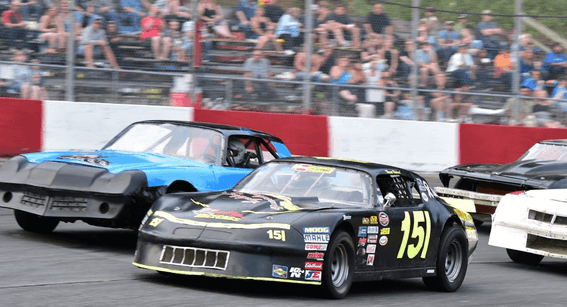 Agassiz Speedway
Experience the excitement of oval track racing at Agassiz Speedway. Operating since 1971, this speedway is host to racing events in a variety of formats including sportsman, streetstock, mini stock, midgets and hornets. Racing events typically take place from April through September and offer discounted admission for children, youth and seniors.
>> Visit Agassiz Speedway
Upcoming Events
Check out upcoming events in Harrison Hot Springs